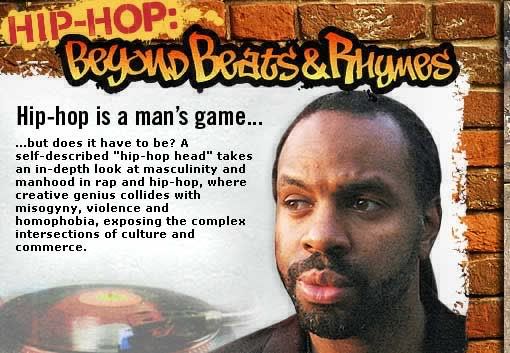 En
Independence Lens
(PBS.org) vi este domingo el documental
HIP-HOP: Beyond Beats and Rhymes
que aborda los temas de masculinidad, sexismo, violencia and homofobia en el hip hop actual.
Bryron Hurt
presenta, en sus propias palabras, «a loving critique» del hip hop como una herramienta para los jóvenes negros para negociar la virilidad y la violencia, plantear la idea de dureza y invulnerabilidad ante el ghetto o la clica, la feminización del «otro» como arma tanto de dominio como de reconocimiento (a nadie le gusta ser a
bitch ass nigga
). También destaca el caracter explicitamente misógino no sólo de la mayoría de las líricas sino de los videos con toma de «arroja el dinero» y chicas meneando el trasero. Además, saca a relucir cual es la diferencia entre
bitches ´n´ hos
y
sistas
. Respect.
Siempre me ha parecido irónico esa glamurización del gansta style, esa estética de la violencia callejera y el appel que tiene en general el hip hop en los jóvenes blancos que tampoco quieren ser
suaves.
El documental no me arroja nuevas pistas pero sí un punto de vista a la visión que, desde mi posición como observador externo, tengo.
BTW, impagable esa declaración de
Chuck D
calificando a
BET
-la cadena de videos- como
el cancer de la juventud negra
.
HIP-HOP: Beyond Beats and Rhymes (Bryon Hurt, 2006) is produced by God Bless the Child Productions in association with the Independent Television Service (ITVS) with funding provided by the Corporation for Public Broadcasting and the National Black Programming Consortia (NBPC) .
more info
here