jueves 19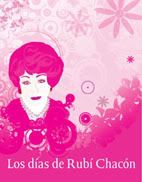 El jueves fui a la presentación de la novela
Los días de Rubí Chacón
de
Hilario Peña
. Miryam Ruiz y Elma Correa se hicieron cargo de los comentarios preliminares (buenos textos y apreciaciones, por cierto). Luego, el autor leyó un fragmento de la novela y platicó un rato sobre la realización de esta. Me llevé la novela a casa. La leí de corridito. Me gusto (luego, si tengo chance posteo aquí una review de la misma).
Antes de ir a casa, pasé al Palacio de Cultura en el downtown para ver si llegaba a tiempo a la lectura en voz alta de
La ciudad que recorro
de
Pancho Morales.
Cuando llegué, ya estaba todo mundo en la chorcha así mejor me fui a TJ West Coast. Ni modo.
viernes 20

El viernes caí a la inauguración del nuevo espacio en el Cecut -en la planta baja- y que contó con la intervención de
Alejandro Zacarías
. Reciclaje con filo, una presentación arriesgada y lo que es mejor, arte con propuesta y feeling.
DJ Chucuchu
animó la fiesta, hubo cerveza
Tijuana
oscura gratis y etc. Buten gente conocida, buena charla y una fiesta que se desperdigó por la city (unos terminarón en el
DDS
; otros en
LF
, el nuevo espacio regenteado por la gente de radio global; algunos, en el
Maquila
after party). La noche en Tijuana, btw, se mueve, pals.
sábado 21
Tenía pensado ir al
Festival de Verano
organizado por la
librería Sor Juana
pero, you know, uno hace planes y pues... se quedan en eso. Paso la tarde tratando de hacer funcionar la compu (al final lo logré. A medias). O todo mundo salió temprano de sus casas y olvidó el celular ahí o nadie quiere contestarme. Visto así, decidí quedarme en casa y escuchar una emisión más de
Swami
radio show.
Oh,
The Boo Boo Song
by King Coleman is way out cool. Además, cualquier show que incluya mis amados Suicide, The Mockers, neu, Black Flag, The Osmonds o Omar Khorshid & His Magic Guitar saca un
«sobresaliente»
en mi lista.