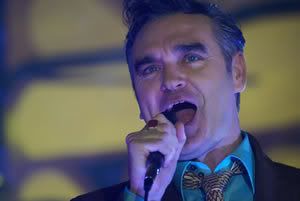 Fui fan acérrrimo de
The Smiths
desde 1984. En agosto de 1986, pude ver
los
en su gira final por USA (con el disco
The Queen is dead
). Publiqué la reseña del concierto -la primera que hacia- en
Psychocandy
, uno de mis primeros fanzines. Ahora, sigo siendo fan pero ya no a ultranza.
Morrisey siempre ha sido uno de mis cantantes preferidos, me encanta su liga con la literatura y el sixties pop. Estuve en su primera gira como solista -en el antiguo Sports Arena de San Diego- y creo que, si no me falla la memoria, alguna otra vez.
Hace un par de días, en la tele vi el
promo
de una presentación de Morrisey en el Polyforum Siqueiros. Umm, por lo menos llega en plena forma y buenas canciones. Vamos, no es Air Supply.
En fin, me dispusé a ver el tv show (In-D, en 52MX). Un
Morrisey
más gordito, de traje, arropado por un grupo de contundencia casi rockista. Bien.
Algunos temas en vivo (
The First in the gang to die, I just want to see the boy happy, Let me kiss you, I will see you in far-off places
y
In the future when all´s well
), videos y fragmentos de la entrevista que le hizo Rulo. Muy bien.
Moz y sus florituras tan habituales, sin desabrocharse -por lo menos en tv- el saco y tan puntual en sus comentarios (aunque extrañe un poco lo sarcástico que era en los ochenta). Moz burlándose de la mentalidad «tengo todo en la compu» (si, ya sabemos que es super fetichista del vinilo y la radio pop), de los premios de la industria, de la adolescentricidad tan en boga estos últimos tiempos. Sí, señalándolo porque sabe que tiene una fan basa fiel y poderosa, que lo sigue a todas partes y que lo ha hecho ya parte de su vida.
Moz nos asegura que sigue siendo un espíritu libre en un mundo corporativo, organizado, que controla y dispone de los artistas como mercancías. Pues eso.
Viva Moz.