Sin tetas no hay paraíso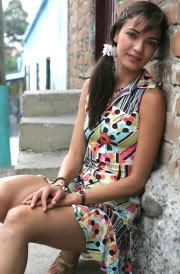 Este sábado me quedé en casa. Sin nada mejor que hacer, prendí la tv. Ya saben, surfing channel. La dejo en un canal en español. Me quedo enganchado por las siguientes 3 horas. No sé si era un programa especial, si era un resumen semanal (aunque no creo, pasaron más anuncios que segmentos del tv show). Ya en otra ocasión había visto algún capítulo, ahora soy fan.
Hiper realista. Chicas pre pago que buscan a toda costa a un duro, un man que las saque del contingente de peladitas barriobajeras en Pereira o que les pague la operación de teticas (su pasaporte al mundo de las posibilidades, de lujos y gustos impuestos por los medios).
Grillas vanidosas e ingenuas (a su modo) bajo el imperio de la narco cultura que todo lo permea. Para aquellos armados, forrados and hornys, siempre habrá alguien que cede ante el embate del poder y el billete. Sicarios y putas, conveniencia & dreams, sin moralina una lección para los que quieren coger el cielo sin esfuerzo.
The burning Colombia de hoy, it´s a hard life.
A wonderful, wonderful tv show.
Se transmite los domingos por
unicable.
*en la foto, Catalina, la protagonista
**
aquí
más info (y
una nota
sobre la controversia en Colombia el año pasado)
***
aquí
informan de una posible versión gringa en Telemundo